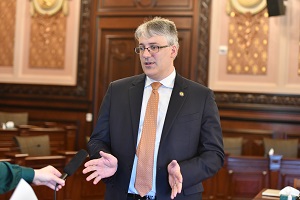 ROCK ISLAND – With the support of State Senator Mike Halpin, the Colona, Rio Township and Rivoli Township Fire Protection Districts will receive a combined $60,000 for the purchase of small firefighting and ambulance equipment.
"Volunteer firefighters are the backbone of many communities, selflessly dedicating their time and risking their lives to protect their neighbors and fellow citizens," said Halpin (D-Rock Island). "Without their tireless commitment and service, many communities would be unable to maintain an effective fire department and ensure the safety and well-being of residents."
The Small Equipment Grant Program is an innovative approach to a problem that has long caused difficulties for fire departments and not-for profit ambulance services in Illinois, particularly those that face hardships in generating the necessary revenue for small equipment. The purpose is to allow eligible applicants the opportunity to purchase small equipment that they may otherwise not be able to purchase.
Fire protection districts receiving funds in the area Halpin represents include:
Colona Fire Protection District - $8,568
Rio Township Fire Protection District - $26,000
Rivoli Fire Protection District - $25,993
"As we all know, volunteer fire departments all around the state are struggling to maintain a safe work environment due to the lack of funding. The Office of the Illinois State Fire Marshal's Small Equipment Grant Program has provided us the opportunity to purchase a thermal imagining camera we desperately need that will help keep our firefighters safe," said Colona Fire Chief John Swan.
To learn more about grants and loans offered by the Illinois State Fire Marshal, click here.